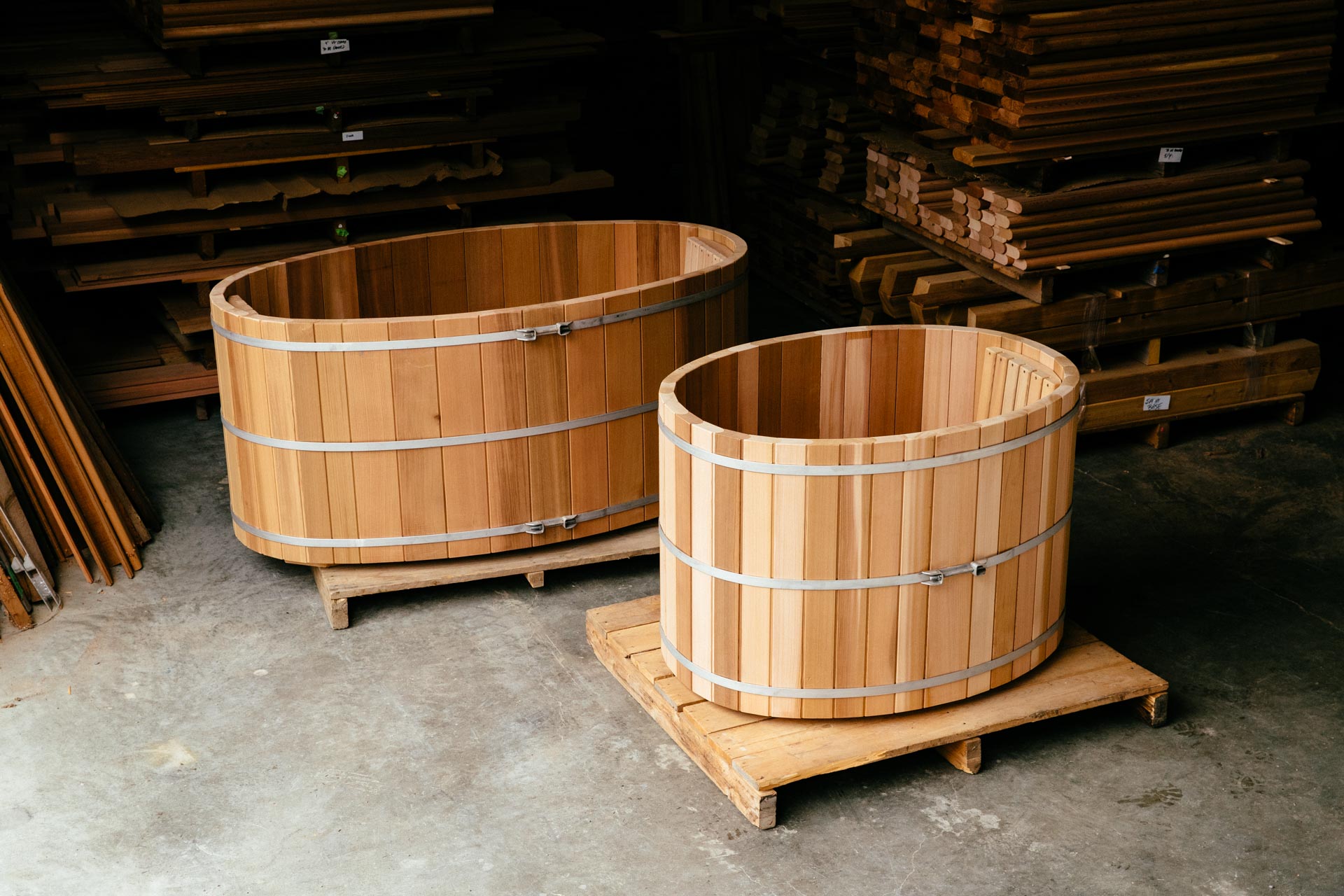 Crafted from the iconic cedar trees of the Pacific Northwest, each one of our cedar soaking tubs are a bespoke creation made specifically for you and your at-home oasis. Having a soaking tub steps outside your door, or in your home, is meant to enhance your daily life and ground you in nature's restorative qualities. Yet, the buying process and nitty gritty details of set-up and installation can feel elusive or overwhelming, taking away from the intended effect of these handcrafted tubs. Just like a warm soak promotes greater calm and relaxation, we've created a comprehensive guide to selecting the best cedar soaker tub to create a more enjoyable process from start to finish. 
Ready to take the plunge? Our cedar soaker tub buyer's guide aims to provide the answers to our clients most common questions, including cleaning and care, installation, how to choose the right heating source and more.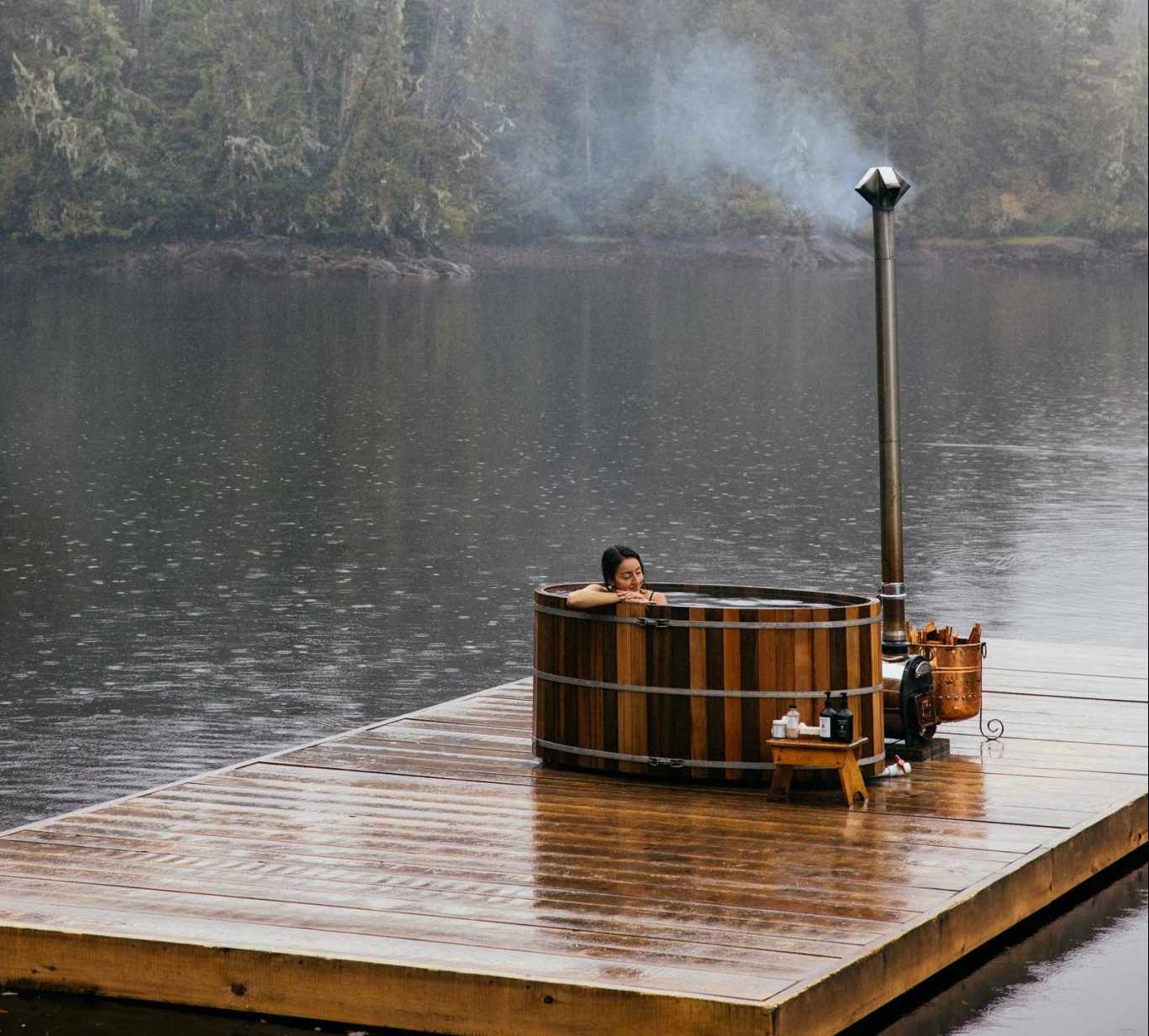 Benefits of Soaker Tubs 
Cedar soaking tubs offer a soothing and aromatic experience, following a tradition that's been practiced for thousands of years. Their therapeutic benefits are drawn from soaking in a tub full of hot water for a quiet time of reflection and introspection, but there are also plenty of physiological benefits beyond the mental. 
In a 2018 study, Physical and Mental Effects of Bathing: A Randomized Intervention Study, Japanese researchers collected evidence that showed that regularly steeping in a warm bath soothes tired muscles by increasing circulation to reduce tension and fatigue. The improved circulation not only helps lower blood pressure and enhance vascular function throughout the entire body, but their findings also showed that routine bathers were happier, more relaxed, and even smiled more as a result of their time spent soaking. All this goes to show that immersing yourself in warm water has far-reaching, holistic benefits, and can be effectively used to win an argument the next time you need to make your case for spending an extra hour in the tub.
Styles of Soaking Tubs 
Our Japanese-inspired soaker tubs are constructed of clear, vertical grain Canadian Western Red Cedar, an exceptionally premium wood that's prized for its beauty and longevity.
To create your ideal soaking experience, we offer different shapes and styles of tubs: including round hot tubs and oval soaking tubs. Round soaking tubs are four feet in diameter and either 3, 3.5, or 4-feet high. Each round tub comes with a three-sided bench inside to accommodate two people, or a cozy three. The 3-foot tub can hold up to 220 gallons of water, the 3.5-foot tall tub has a capacity for 260, and our largest 4-foot model can hold up to 300 gallons to deeply immerse yourself in steaming hot water. 
Deeper than a traditional western bathtub, our oval soaking tubs are designed to have an elegant and timeless shape. Available in a one or two-person model, the smallest can fit up to 60 gallons, while the larger tub fits 150 gallons — plus a friend — with the option to add a backrest that creates a slight slope for the user to relax into.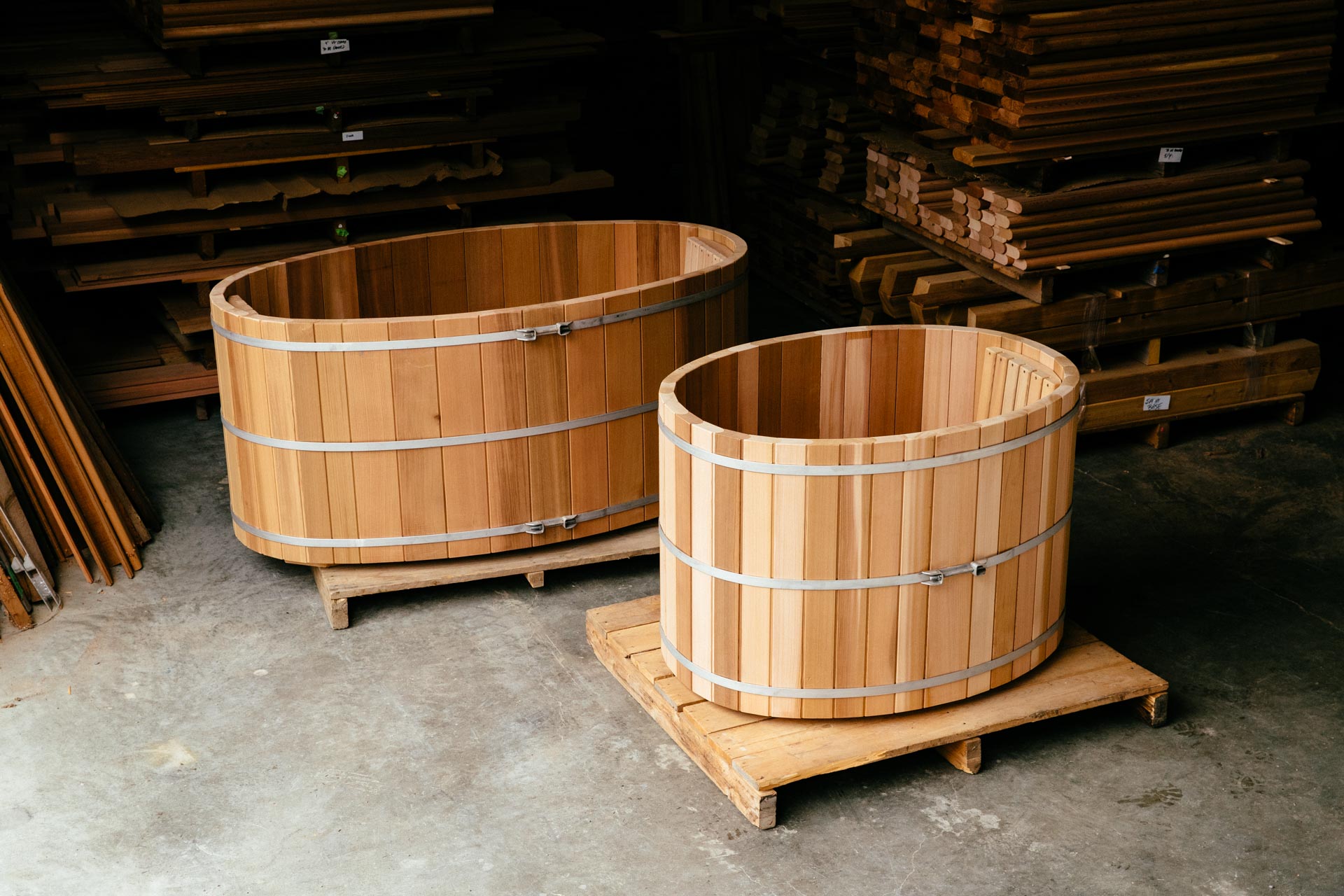 Indoor and Outdoor Use 
Whether in a bathroom or outside under the stars, our tubs will always smell great and leave you feeling relaxed.
Outdoor Soaker Tubs 
Want to have that pure and natural experience of soaking in a tub outdoors? Start by selecting a location that is level and free of bumps, rocks, roots, and organic matter to prevent the ground from settling. If it's not, you may have to do a little bit of landscaping beforehand to get it ready and in good condition. The area should also have good drainage to prevent the ground from getting muddy.
For safety, check the site for any potential hazards like trees or power lines directly over the tub. You may also want to make sure that it doesn't interfere with your home's septic tanks, sewage lines or other utilities. 
And for the sake of ease and convenience, scout out a spot for your tub where a hose and electric panels (if you choose to use an electric heater) are readily accessible. 
For tubs heated by a wood stove, ensure you are well away from any doors or windows, and ensure you are in compliance with local fire regulations. 
Indoor Soaker Tubs
For indoor use, make sure you have good ventilation to deal with steam and humidity, and a floor that is impervious to water with a drain to keep the area dry. 
A standard shower pan is a great option for our one-person soaker tubs, while our two-person models may require a custom tiled shower pan or a bathroom floor with drainage. Because our tubs are made from 100% natural wood, keep in mind that there will be a break-in period, so it's crucial to be prepared for all the surrounding areas to get wet. 
When you first fill your tub, it will leak until the wood swells, creating a water-tight seal. 
A couple of other things to keep in mind before selecting a spot for your tub is to make sure your local building code allows wooden tubs to be used indoors, and that the floor is strong enough to support the weight when it's full of both water and soakers. 
Our one-person soaker tubs weigh approximately 600 lb / 272 kg when full of water, while our two-person tubs weigh approximately 1400 lb / 636 kg.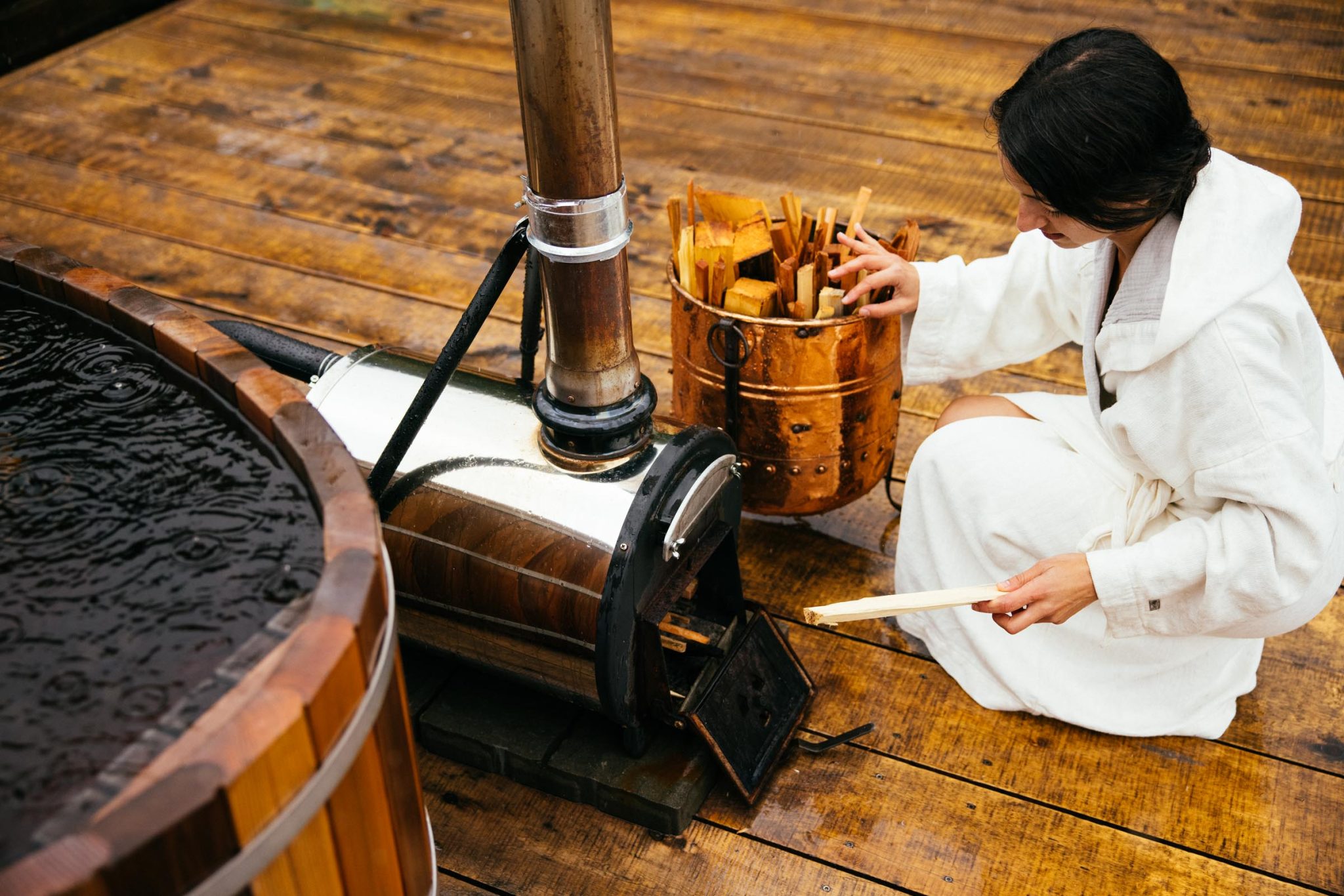 Heating & Cooling 
There are two ways to heat an outdoor soaking tub that are equally soothing and enjoyable in their own right: wood fire and electric heat. 

Electric Heating
The most common heating option is our electric heating package, which comes with nearly all the parts needed for set-up. When selecting an electrical heating option for a Forest Cooperage soaking tub, we recommend pairing our 4kW heater with a 30 amp 240v GFCI spa breaker panel. This should heat the water in 2-5 hours depending on the starting temperature and volume of your tub. If you don't have access to 240v power, you can also choose a 120v option, which will require a 20 amp GFCI outlet to plug into. 
The heating time for this option in a two-person tub will range from 10-20 hours. If conditions are cold, an uncovered tub may experience a few degrees temperature drop while using, while a covered tub will maintain the heat just fine. 
Wood-Fired Soaker Tubs
Although starting a fire and feeding the stove requires a little bit more effort than simply flipping a switch, it's hard to beat the magic of this ancient ritual and the feeling of soaking in a wood-fired tub.
Our external Chofu wood-burning stoves are the perfect off-grid option. These high-efficiency water heaters are well-suited for use in soaking tubs. Make sure to place them in a safe location, away from combustibles, and be sure to check your local fire regulations before installation.
Budget about 4-5 hours to heat up a two-person soaker tub, but keep in mind that the initial heating time will vary depending on the starting water temperature, size of the fire, and air temperature, whereas reheating a tub will be much faster. 
Cold Plunge
If you're keen on cold therapy, our one-person oval soaker tubs are perfect for a therapeutic ice bath or an invigorating cold plunge, which is best enjoyed after a hot sauna or soak (then repeat the cycle all over again!). To create your at-home ice bath, simply fill up the oval soaker tub with cold water and add ice to your desired temperature. For safety, don't go any lower than 39 degrees Fahrenheit — do make sure to have a towel and hot soaking tub ready to go nearby. 
Be sure to consult your physician before engaging in hot or cold therapy to ensure it's safe for you. 
Indoor Soaker Tubs
Indoor soaker tubs can be filled directly from your tap, which gives you the added benefit of a convenient and accessible soak without having to leave the house! 
A tankless on-demand hot water tank heated with natural gas or propane is ideal, or you can fill your tub from a large hot water tank. An on demand system can also be used for outdoor systems, but do take freezing into consideration. If your area experiences freezing conditions, be sure to use the appropriate outdoor rated plumbing fixtures and equipment. 
Soaker Tub Covers
For outdoor soaker tubs, we recommend investing in a cover to keep debris out and prevent the water from evaporating, which can cause the tub to dry out over time. 
Available in multiple colours, an insulated foam and vinyl cover works well to keep the heat in and cool out. Alternatively, our much-loved cedar cover offers a beautiful, cohesive look. Though it isn't insulated, it's by far one of the most popular options, and you can opt to add a floating insulated blanket beneath it to help trap heat. 
Our one-person lid comes in a single piece, while the two-person models have two separate pieces, making both options easy to take on and off.
Soaker Tub Sanitation 
If you prefer to not use chemicals, you can fill and empty your tub with each use. To do so, you'll need an adequate supply of water, and to allow time for draining, filling, and reheating.
Alternatively, you can maintain the quality of the water, and have the tub always ready to go, by treating it on a regular basis with Bromine and a weekly rinsing of your filter system. To reduce bromine requirements, you can add a mineral ionizer to your electric heating equipment, which imparts trace elements of copper and silver in the water to act as algae inhibitors. The ionizer will allow you to reduce your Bromine use by over 50%.
As the soaker tubs are smaller than a typical hot tub, you can expect to change the water once a month or so, if you are treating the water. If the water is untreated, it should be changed after a few days of use.
Once you've laid the groundwork, selected a heating option, and prepped your space, our cedar soaker tubs only require a small amount of maintenance and regular care; from that point on a nature-based form of wellness is always within reach. To harness the revitalizing effects of wood and water, browse the options on our website to start building your own cedar soaker tub.