Want to impress your guests, increase your rates and get booked out? Who doesn't? An exceptional vacation rental guest experience can make all the difference. 
Whether you're renting through a platform like Airbnb or VRBO, or you're going independent and marketing directly to your customers, it pays to develop an outstanding guest experience.
Hotels and resorts around the world work hard to develop an exceptional reputation for the type of experience they have to offer. Even if you only have a single rental suite, you can follow their lead and reap the rewards. 
To inspire you to make your rental stand out in the crowd, we're taking a look at how top-rated vacation rental owners have designed outstanding experiences for their guests. We'll share their advice, along with a few tried and true ideas and practical considerations to help you take your rental to the next level.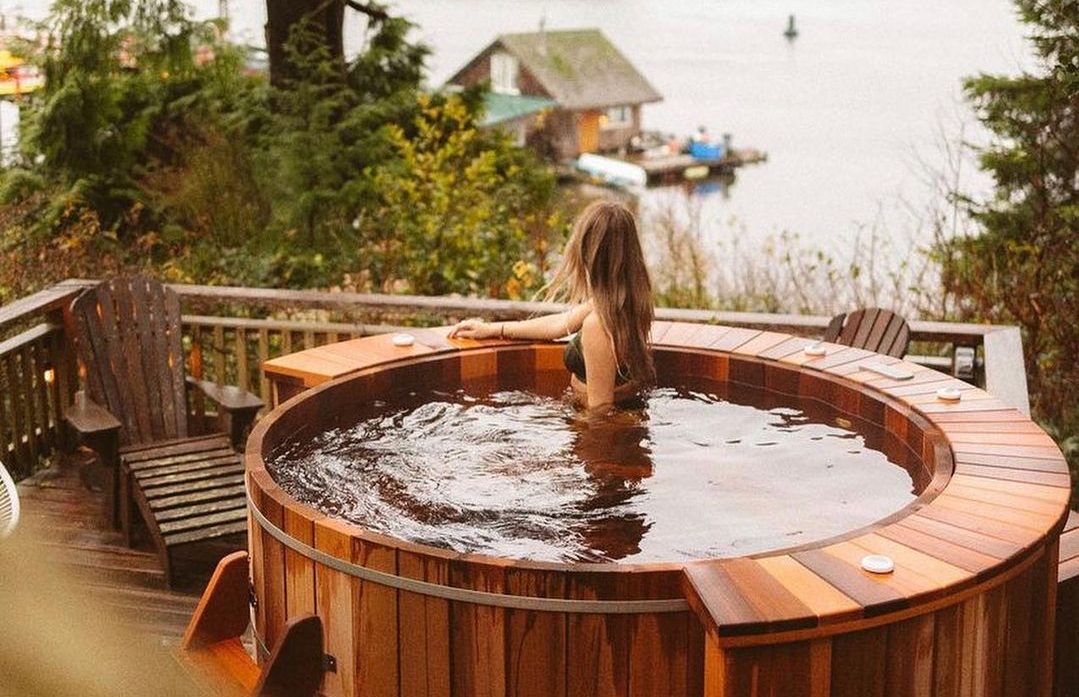 What makes for an outstanding guest experience?
First, nail the basics: an ultra-clean space, excellent communication and a seamless check-in/check-out process are a must. 
To stand out in the crowd, you'll need to do all this and more. Competitive short-term rentals offer thoughtful amenities to make guests feel right at home. Go the extra mile and you may find yourself drawing international acclaim, like Kitoki Inn, a unique Japanese bathhouse and cabin stay on Bowen Island, BC.
Owner Mitsumi Kawai explains how their bathhouse elevates the guest experience. 
"Our bathhouse was of course inspired by the open air hot springs (onsen) experience you can find in Japan. Having a bathhouse that overlooks a mossy forest canopy with fresh air creates a tranquil and calming experience. You can witness the seasons and weather as you soak, whether it be a rainstorm, a gentle snowfall, frogs croaking in the forest or the dusk glow. Our intention was to create a place to unplug, relax and be connected to nature and come out of the visit feeling refreshed and ready to enter the world."
Special Touches for Your Vacation Rental
Whether you have a luxurious designer home or you're getting started with a more limited budget, you can create an outstanding guest experience by adding special touches to your space that surprise and delight your guests. 
Little details like locally made soap, a candy jar or handmade mugs in the kitchen can make an impact at a relatively low cost. A bottle of wine never hurts either!
What makes it really stand out is how every detail fits together. Design choices make a difference! Turn to Pinterest for endless inspiration. You can't go wrong with crisp white bedding, but don't be afraid to infuse some personality into your space to set it apart from all the generic hotel rooms out there. 
Keep in mind, your guests' impressions don't start and end when they walk in the door, so don't let the outdoors be an afterthought. Plants can provide added privacy, and beautiful landscaping can help to make people feel connected with the outdoors. 
The Nami Project in Ucluelet is a beautiful example, with stunning landscaping that blends into the natural beauty of the location. Plenty of deck space makes the outdoors accessible, with sunken cedar hot tubs providing the perfect draw to bring guests outside all year round.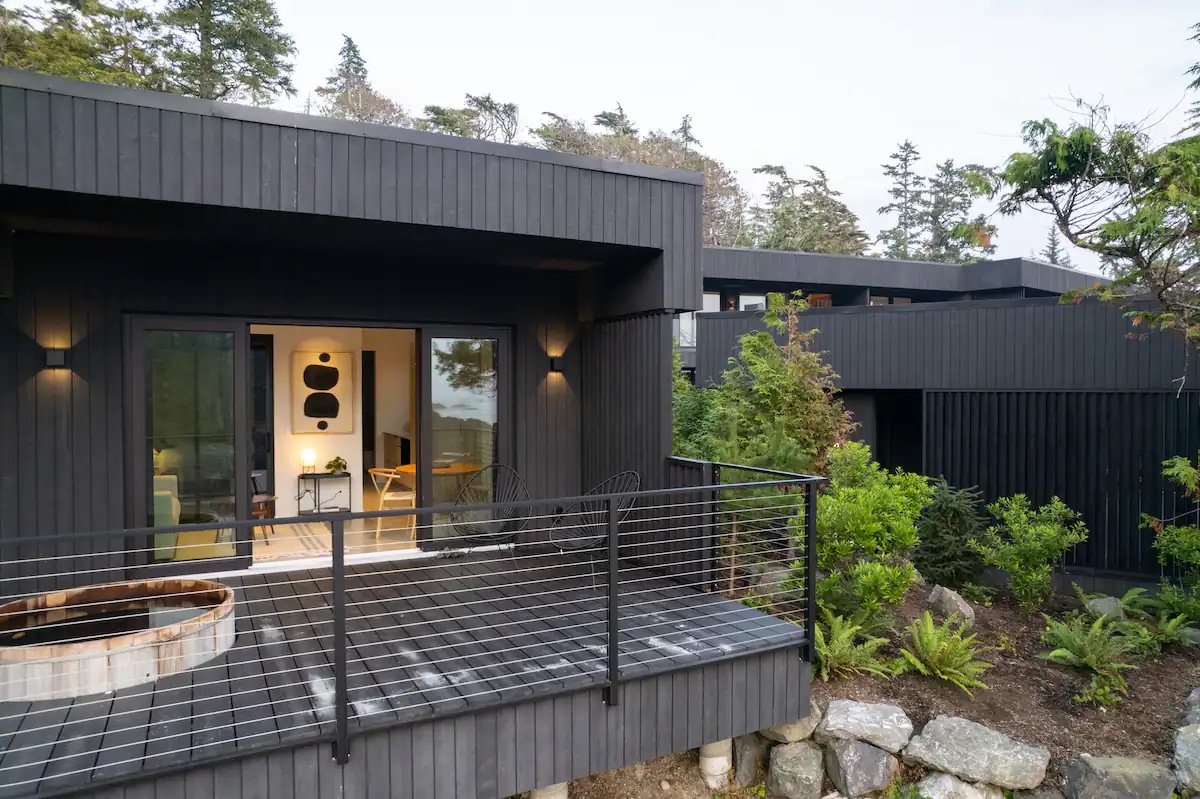 Should you add a hot tub, sauna or cold plunge to your property?
In a competitive market, adding a unique experience can set your property apart, giving guests not just a place to stay but also something to do… and something to talk about afterward!  
We may be biased, but we believe there's no better way to bring people closer to nature than a cedar hot tub or sauna!  A cold plunge takes it to the next level providing a restorative contrast therapy spa circuit. 
Of course, there are a few factors to consider before taking the plunge. You'll have to stay on top of maintenance and sanitation, and you'll need to cover the upfront investment.
Is it worth it? The proof is in the reviews. 

Jordan River Cedar House & Hot Tub


When you add amenities like a hot tub or sauna to your vacation rental, you give your guests the opportunity to relax, unwind and leave feeling better than when they arrived. That's something people will want to come back for again and again! 
Can you make more money when you have a hot tub at your B&B? 
Travellers want more than just a place to sleep, and many will actively search for listings that offer experiences as well. The reviews above are great examples of this! A sauna, hot tub, cold plunge or fire pit are all great ways to stand out, and even something as simple as a barbecue can make a difference.
Pro-tip: if you have a hot tub, mention it in your listing title to make it easy for guests to find you in their search. 
Not only can premium amenities help you stand out on crowded platforms like Airbnb, but they can also help you increase your rates. 
According to Beyond, a short-term rental revenue management platform, hot tubs are one of the most profitable rental amenities. They explain, "In almost every market we looked at, hot tubs were a winning amenity. In markets like Atlanta, Oahu, Los Angeles, and the North Carolina mountains, hosts and property managers are able to charge a 20-25% premium on listings with a hot tub compared to listings without one."
You may also consider offering the experience for an additional fee. For example, Wild Renfrew offers private 2-hour wood-fired sauna bookings as an add-on to your stay.
Beyond the additional revenue you can earn on each booking, a beautiful hot tub or sauna in a stunning location can help you market your property through word of mouth. You can count on your guests to share photos, leave great reviews, and tell their friends if the experience blows them away. 
Lastly, a hot tub or sauna can be a great way to increase your revenue if your accommodations are booked up, or if you don't want to offer accommodations at all. For example, Hideout Buho offers a private 2-hour wood-fired hot tub experience for locals and travellers in Oregon.
Make it easy for your guests
There's more than one way to offer a spa-like experience to your guests. Will you have everything ready for your guests' arrival, or will you leave it to them to enjoy the ritual from start to finish?
If you're adding a hot tub or sauna to your property, one of the key decisions to make is how to heat it. At Forest Cooperage, we offer wood-fired, electric and propane or natural gas heating options, which each come with their own advantages and considerations.
Electric heating is convenient and easy to maintain at the perfect temperature. Wireless options allow you to increase the heat remotely so you don't have to leave your hot tub fully heated all the time but you can still offer to get it ready for your guests before they arrive.
Propane or natural gas are also user-friendly and provide the fastest heating times, without the need for as much electricity consumption, making them ideal for solar or generator-powered off-grid locations. Given their fast heating times, they are also ideal if you want to drain and refill the tub between guest visits.
Wood-fired hot tubs and saunas can be more economical depending on the availability of firewood and the cost of electricity in your area. They heat more quickly so you don't need to plan as far ahead, and for many people, the novelty of the fire is what really makes the experience memorable.
If you live on or near the property, you can offer a higher-touch service by offering to heat the tub or sauna for your guests ahead of time. Alternatively, you can leave detailed instructions, along with plenty of kindling and firewood and leave it to your guests to manage their own fire. Keep in mind that some people may never have had the opportunity to light a fire before, so make sure to provide plenty of guidance. While it can take several hours to heat a wood-fired hot tub, it's a labour of love that might just be the highlight for your guests. 
The fine print: liability, permits and insurance
Before adding a hot tub, sauna or cold plunge to your rental, make sure that you have any required permits and insurance. Don't assume you're covered just because you've seen someone else doing it! Some home insurance policies do not allow for hot tubs, so you may need to update your coverage to avoid having your policy voided. 
If your home insurance policy doesn't cover a hot tub or sauna, you may be able to get coverage through Airbnb's Host Damage Protection or Host Liability Insurance Program. These policies vary from location to location so we suggest getting confirmation in writing.
When in doubt, it's wise to consult a legal professional in your area to ensure you're in good legal standing and have sufficient liability coverage. You may also want to include a lawyer-approved waiver in your booking process.
Another wise idea is to post sauna or hot tub safety rules. It may seem like common sense, but it doesn't hurt to remind your guests to avoid activities that can put them or your property at risk.
How to Create a Spa-like Ritual
If you really want to set your property apart, think of your amenities as more than just something for your guests to use. Consider them an invitation to disconnect and experience the mental and physical benefits of ancient rituals. 
The Sentinel in Kaslo, BC shared how they've created an immersive experience for their guests:
"We have a lovely quaint spa on our property that includes a wood-fired sauna, a cedar hot tub, and a cold plunge, all overlooking gorgeous Kootenay Lake and the mountains beyond. Here, guests can relax and immerse themselves in tranquillity during their stay, allowing for a much-needed respite amidst the serious soul journeys they are embarking upon."
Looking for more inspiration? Consider this your sign to book a trip to visit one of these spectacular destinations with cedar hot tubs and saunas… for research purposes of course!